Barça's success undermined by Madrid press.
Details

Category: Ibrahim Ayyub
Published: Monday, March 21 2011 05:02
Written by Ibrahim Ayyub
Hits: 4631

The Madrid media and their constant efforts to tarnish FC Barcelona, along with some low class jabs from Mourinho, never cease to amaze me. Florentino Perez always tries to be this classy president who wants to send an image of his beloved club as ambassadors of the beautiful game and 1st class organization. Yet, he has no problem with Mourinho whining about the calendar and seems to turn a blind eye when Madrid media such as Marca and AS keep coming up with Villarato claims, made up stories and doctored photos to show refs aiding Barcelona, and now this recent COPE news report that Real Madrid wanted better drug testing because Barcelona were doping their players by using doctors who are shady. Barça fans have dealt with it for a long time but Barça's new president is making sure that there is a limit on how much can be tolerated.

 

For the past few years, we have seen Barcelona win four out of the last six league campaigns. The first two were a product of amazing players being managed by a soft spoken manager, Rijkaard, who unfortunately lost control of his players and saw Real Madrid win back to back league titles. Madrid won those titles after Real Madrid's Florentino Perez stepped down as president. Ramón Calderón came in and the club won two league titles while continuing to struggle in the Champions League knock out stages. Of course, Calderón's exist was because of his own doings concerning shady elections results and lies exposed by the Madrid media. He resigned during Guardiola's first year as the new manager of FC Barcelona that went on to win the treble.

 

Calderón's exist brought back Florentino Perez as president of Real Madrid and with him, the era of getting the big name managers and biggest names in football to play for the club. His return saw his club suffer the same fate that plagued him and his predecessor in Europe for the past six years along with the bitter taste of losing the league title to then FC Barcelona president for the third time. Barça repeated as league champions last season to capture their fourth league title of the decade. However, that campaign was plagued by absurd allegations of "Villarato" from the Madrid press. Any decision that went Barça's way was poached on by the Madrid sport papers AS and Marca like vultures. Since then, the campaign has gotten worse and has even gotten an extra nudge by Jose Mourinho also whining to the media about the league and the referees aiding FC Barcelona.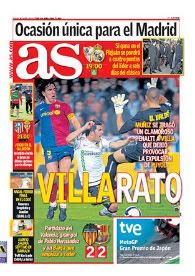 How times have changed. It used to be that Real Madrid were the ones getting all the breaks and calls that prompted many fans in Spain to chant "así, así, gana el Madrid" in their team's stadiums. Oddly enough, the chant was originated not by Barça fans, but by Sporting Gijón fans back in 1979. Since then, the chant has been used by both Real Madrid fans when cheering on their team winning in great fashion and by opposing fans whenever Real Madrid got a call go their way. Now, the Spanish league has endured almost 2 seasons of "Villarato" propaganda that doesn't seem to be disappearing anytime soon due to the gullibility of some those actually buy into it.
 
"Villarato" was a term coined by AS editor, Alfredo Relaño, back in 2009, as a way to complain whenever Barça won thanks to referee assistance. The word is associated with Spanish league president, Ángel María Villar, who the Madrid press considers as a Barcelona fan and thus undermine Barça's success with these vile and unfounded arguments that the league favors Barça. What makes this so absurd is that the Spanish league is known for being inept and disorganized at times that I would be amazed that they could arrange such a conspiracy when they have a tough time deciding fixtures in advance.
 

Of course, there are gullible fans who believe in this conspiracy and regardless that it is completely absurd, it will still haunt our club and attempt to tarnish the recent success. Someone perhaps should remind them that Villar was seen in an AS story wearing the Real Madrid shirt, during Calderón's era as Real Madrid president, with Calderón standing beside him. It sure seems odd that people would believe in Villarato but forget that photo. I am not saying that Villar is a diehard Madridista but at least I know that it was probably an attempt of humor by Madrid and not some diabolical plot to ensure Real Madrid won the league crown for the second year running. Barça finished third that season and Laporta survived being the president of FC Barcelona by the skin of his teeth. What makes this conspiracy even more farcical is that Villar was elected as president back in 1988, during which Barça, Real Madrid, Atlético Madrid, Deportivo La Corona and Valencia have all won league titles.
 
Thus, Guardiola's era as manager of FC Barcelona has always been undermined by the Madrid media. We had seen them use "Villarato" whenever Barça get a decision go their way but ignore the blown calls made by referees in other games. We have seen them stoop low enough to doctor images to fuel the bogus conspiracy with imaginary off sides' calls where they would show a Barça player offside but after the ball has been played. Why, just recently, AS had the audacity to print a story that Dani Alves was offside against Bilbao last month before squaring the ball up to Villa for the goal. They used an image to show Dani Alves was offside but then had to apologize afterwards when the image they used was doctored with a Bilbao player, who was the reason why Alves was onside, somehow missing. The overall reaction was how could something like that happen? Is it amateur hour over at AS or just another part of their bogus conspiracy blowing up in their face. Furthermore, I have heard that the editor or columnist who came up with "Villarato" doesn't believe that such a thing exists and has said so himself.
 
Of course, we also have to deal with Real Madrid's manager, Jose Mourinho, constantly whining to the press about not getting enough protection from the referees for his players and about the fixtures. I agreed with him that the league was silly to have Real Madrid play on a Saturday following a Champions League tie on Wednesday. Now, there is the easy joke that it was only against Atlético Madrid after all but he had a valid point. However, it seemed pathetic to whine about the league favoring Barcelona when it came to the calendar when Barcelona had to go through the same thing earlier this season back in October when they hosted FC København on Wednesday before traveling away to face Zaragoza and also in January when Barcelona played away against Athletic Bilbao in the Copa Del Rey on Wednesday before facing Deportivo La Corona away on Saturday. So for Mourinho to whine about this while the Madrid media back him up is basically clutching at straws at this point.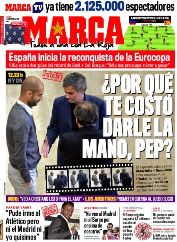 Nevertheless, the Madrid media has even stooped lower by making headlines out of nothing. I mentioned this back in September after Marca came out with a story trying to tarnish Guardiola. Marca somehow decided that Guardiola refused to shake the hand of Mourinho in one image featuring Guardiola, Mourinho and UEFA president Platini. Thankfully other members of the media immediately discredited the story when Graham Hunter debunked it on his twitter account. I was upset at the time with the club when they were dragging their feet in giving an official response criticizing this type of reporting. Fortunately, the club did respond days later by promising legal actions if anymore of this type of reporting occurred. This promise did not turn out to be a bluff when the club threatened and in fact sought legal action against a Madrid Radio station Cadena COPE after going on the air with a story that yet again threatened to tarnish our club's legacy.
 
 
To make a long story short, Juan Antonio Alcala went on the air claiming that Real Madrid had asked the Spanish football federation to approach the drug testing in the league in a more serious manner since it considered the league's drug testing to be a farce and alleged that doctors with questionable reputations were associated with FC Barcelona and Valencia. Of course, Alcala's story was based on a source from Real Madrid. The club reacted with a promise of legal action and Alcala tried to back away from those statements claiming that he was perhaps being naïve but stood by his story that the information came from Real Madrid. Now I don't live in Spain so I am not familiar with all the media outlets there but a good Catalan friend of mine gave me the low down about Cadena COPE.
 
In essence, he said COPE is well known for their relationship with the conservative Partido Popular (People´s Party) and their constant criticism and campaigns against Catalan nationalism. The party's campaign was so powerful that they managed to create a divide between Catalan and Madrid Catholics and priests. Sadly, as much as I want to say Spain is united across the land, there still exists a bit of resentment between Madrid and Barcelona ranging from the Civil War and Franco. Barça fans were known to always complain about referees helping out Real Madrid in the past because of their connections to Franco.
 

Now I wasn't alive back then for some of the older stories but there are stories of incidents where referees and the government helping out Real Madrid.  Tales of the 11-1 loss to Real Madrid in Madrid where the players were allegedly threatened by Franco's security forces inside the dressing room prior to kick off exist along with tales of poor referees such as Emilio Guruceta Muro and his gift of a penalty to Real Madrid against Barça in the Copa Del Rey back in 1969, Perez Burrull and his supposed favoring of Real Madrid including the controversial decisions and remarks he made in a Madrid game against Osasuna two seasons ago. My favorite one though is when Carlos Megia Davila was hired by Real Madrid after he retired from officiating in the Spanish league with him donning the Madrid shirt and declaring he was a Madrid fan since he was little.
 
Now I won't lie, I am also guilty of buying the hype. It comes with the sport, the passion or whatever you call it when you try to explain why your team didn't do better than the other team. It's like the saying goes, "Haters gonna hate." I whined when Michael Jordan and the Bulls won because I believed that the refs let Jordan travel or drag his pivot foot way too many times in games. Fans are going to nitpick every wrong decision that helped another team win. We still hear Chelsea fans complaining about the Champions League Semi-Finals exit while some Barça fans, including myself, still complain about Chelsea's 4-2 win over Barça when John Terry scored that fourth goal near the end while the referee missed Carvalho tugging on Valdés's shirt during the corner kick.
 
Let's face it; big teams always get the calls. That's how it always been and we also have some good referees as well as some bad ones too. In conclusion, you will always find haters. Madrid press, Barcelona press, they both will try to make the other team look bad. They can also be quite vicious towards their own teams when things go bad. The fans sometimes buy into the hype and sometimes dismiss it. The club is doing the right thing by threatening legal action when it comes to fraudulent reporting that tarnishes the club's image. It would be nice to see them do that every time AS and Marca print a bogus story about the club but it will never happen. The club cannot do that for every silly thing and look silly in the process. Their response was swift and correct and I hope they keep it up.  Everyone knows that Barça didn't rely on some secret conspiracy and that their titles are fully deserved.  Madrid's media can try to undermine Barça's success but we all know that they are doing it to sell papers and give their readers, Real Madrid fans, something to read and talk about besides why their team is second best. Best thing to do is ignore their bogus claims. Sadly, that is easier said than done.