FC Barcelona hammer Getafe 6-1 in rare early kickoff match.
Details

Category: ROOT
Published: Sunday, February 10 2013 14:51
Written by Administrator
Hits: 651
FC Barcelona hammered Getafe 6-1 this morning to continue their dominance in their quest to win the league crown. Barça struck first after 6 minutes when Iniesta set up Alexis with a great through ball and the Chilean international showed great patience and composure when he slotted it past the keeper. Barça then grabbed the second goal seven minutes later when Messi was the beneficiary of an unselfish Thiago pass to score from close range. The second half saw the Blaugrana claim four more goals with David Villa scoring before the hour mark and substitute Tello scoring in the 78th minute. However, Getafe capitalized on a Jordi Alba error that allowed Alvaro to score his side's lone goal a few minutes later. Barça though would claim two more goals in the final moments of the match when Iniesta scored in the 90th minute and Pique scoring in stoppage time. Barça temporarily move 12 points ahead of Atlético Madrid atop of the standings. Next up for Barça is an away visit to Granada on Saturday and then a trip to Italy a few days later to take on AC Milan.
Jordi Roura was back in the Barça dugout as the over 85,000 Blaugrana faithful in attendance for this early kickoff encounter against Getafe. Although most of the players were back from international duty, a few them were on the bench.  Valdés was in goal with a back four consisting of Adriano, Puyol, Piqué, and Jordi Alba. The midfield consisted of Song, Thiago, and Iniesta supporting the front three of Alexis, Messi and Villa. Xavi was in the stands besides Abidal because of an injury that will keep him out for 15 days.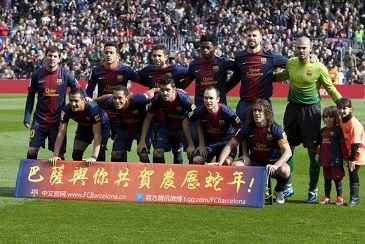 Barça imposed their will on Getafe from the get go and took the early lead just six minutes into the match. Iniesta delivered a sublime through ball that eluded three Getafe players, for Alexis Sanchez. The Chilean international showed great poise by slotting his shot past the Getafe keeper to earn his first league goal of the season. It has been a difficult season for Alexis who now has four goals in all competitions.
Barça did not make us wait for the insurance goal either. Just seven minutes later, Barça's record breaking goal scorer continued his amazing streak of scoring in consecutive games. In the 13th minute, Iniesta delivered another superb ball, this time to Thiago, inside the box. The young midfielder's first touch in front of the Getafe goal allowed him an extra second to unselfishly set up Messi who drilled ball into the bottom corner from the edge of the six-yard box. Messi has now scored in 13 consecutive league matches and leads the league with 35 league goals. He now has 46 goals in all competitions and is one goal away from scoring his 300th Barça goal in all competitions.
Messi almost grabbed a second in the 29th minute after Alexis lifted the ball over the Getafe defense into the path of Messi. However, Messi could only watch as his effort struck the post. Barça's next scoring chance came three minutes before the interval when Alexis once again set up Thiago in front of the goal. Thiago though would be denied after Lopo and Getafe keeper Codina thwarted his effort. No injury time would be awarded and Barça walked off the pitch with a comfortable 2-0 lead.
Jordi Roura made one change during the break by taking off Adriano for Dani Alves. Barça continued to impose their will on Getafe and could have grabbed a third goal in the 57th minute when both Messi and Alexis were denied by Torres blocking their efforts near the goal line.  Nevertheless, Barça would not be denied a minute later when David Villa scored their third goal. Jordi Alba delivered a well-timed through ball for the veteran striker slotted the ball between Codina's legs. Villa now has scored 6 league goals and has 11 goals in all competitions.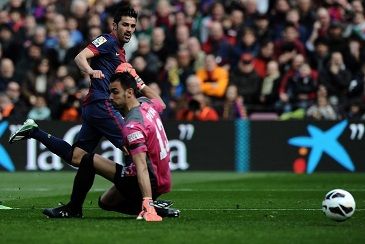 Roura made his second substitution in the 74th minute when Alexis came off for Tello. There was some concern when Puyol was replaced a few minutes for Mascherano. However, reports after the match concluded indicated that Puyol was substituted as a precaution after picking up a slight knock on his right knee.
Barça though did not skip a beat as they kept pushing forward to score more goals. Their efforts were rewarded when Tello scored the club's fourth goal in the 78th minute after he blasted the ball from the edge of the box and past Codina. Messi assisted Tello on his 4th league goal and the young player has now scored 5 goals in all competitions. Unfortunately, Barça did not get to enjoy this match with a clean sheet following a Jordi Alba error that gifted Getafe's Alvaro with a scoring chance that he capitalized on by poking the ball past Valdés.
Barça though were not done and Messi almost grabbed his side's fifth goal of the match when he headed Dani Alves's cross wide. However, Iniesta scored Barça's fifth goal in the 90th minute after the ball took a slight deflection from a Messi effort and Iniesta converted from close range. Iniesta had put in a great performance and the goal was his just deserts. This was Iniesta's second league goal and his 5th in all competitions.
Two minutes of stoppage time were awarded and Barça made the most of it to cap the match with another goal. Even though the match was near its end, Barça were playing as if the match was still a scoreless draw. The ball movement was exquisite leading up to Dani Alves's cross into the box for Thiago, who timed his run well to beat the offside trap.  Thiago chested down the cross and found himself all alone with Codina before unselfishly setting up Pique, who simply slotted the ball into the empty goal. The defender's goal, second league goal and third in all competitions, was the last play of the match as the referee blew the final whistle.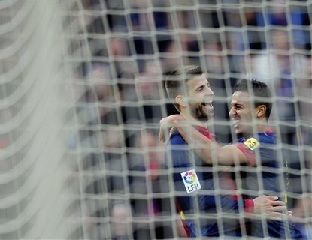 Barça temporarily move 12 points ahead of Atlético Madrid atop of the standings. Next up for Barça is an away visit to Granada on Saturday and then a trip to Italy a few days later to take on AC Milan.
Match Info (From Sport):
FC Barcelona: Valdés; Adriano (Alves, Min. 46), Piqué, Puyol (Mascherano, Min. 75), Jordi Alba; Song, Thiago, Iniesta; Alexis (Tello, Min. 72), Messi y Villa.
Getafe CF: Codina; Miguel Torres, Alexis, Lopo, Escudero; Lacen, Borja; Diego Castro, Abdel Barrada (Sarabia, Min. 70), Gavilán (Pedro León, Min. 64); y Colunga (Álvaro, Min. 72).
Goals: 1-0, Alexis (Min. 6); 2-0, Messi (Min. 13); 3-0, Villa (Min. 58); 4-0, Tello (Min. 78); 4-1, Álvaro (Min. 82); 5-1, Iniesta (Min. 90); 6-1, Piqué (Min. 90+2)
Referee: Ignacio Iglesias Villanueva
Bookings: Lopo (Min. 39), Diego Castro (Min. 41); Song (Min. 47).