Barça Needs To Re-examine Its Youth Policy.
Details

Category: Ibrahim Ayyub
Published: Monday, February 18 2013 04:06
Written by Ibrahim Ayyub
Hits: 2733
Barça keeps praising the fact that their recent success is because of its reliance on its youth setup. Puyol, Xavi, Valdés, Iniesta and Messi all came through La Masia and helped the club become what it is today. However, young players who have been promoted to the first team from the youth setup recently have been ignored and neglected and this is a worrying trend that might become a problem in the near future.
This season was the commencement of a new era following the departure of Pep Guardiola. Tito Vilanova has stepped in and done well after the disappointing result in the Supercopa. The league is basically theirs to lose while they continue their quest for the treble. With such a commanding lead atop of the standings, one would expect Tito and his assistant, and current interim manager, Jordi Roura to rotate the players into the starting lineups.
Although rotations have been occurring with everyone, not named Messi ,being rested occasionally, a certain group of players have been slighted. Barça B defenders Montoya and Bartra seem to have been left out of the mix. They had featured occasionally a few months ago but neither has seen minutes in 2013.
These players are considered first team players and not Barça B players. Thus, they cannot feature for the B team anymore. However, if they are not even dressing for games, their talents are going to waste. This a pressing concern because the club has made it a habit to hold on to Barça B players by promoting them to the first team. However, that tactic appears to be stunting player development rather than aiding it.
Jonathan Dos Santos is a perfect example of promoting a Barça B player to the first team when the possibility of him playing is impossible. He is a midfielder who has the likes of Xavi, Iniesta, Busquets, Cesc, Song and Thiago ahead of him so minutes were going to be hard to come by. He could have went on loan to another team but refused to do so. That was a mistake on his part as he is basically forced himself out of action. Cuenca played it smart after he accepted to go Ajax Amsterdam on loan than stick around and fight for scraps of minutes. Jonathan Dos Santos should have done the same.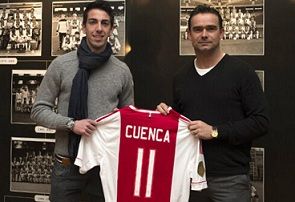 Nevertheless, Montoya and Bartra do not face the same the logjam in their respective positions. Montoya is a brilliant fullback who has to contend with Jordi Alba, Adriano and Dani Alves for minutes. There was no excuse not to see him start a few games here and there recently in order to give those three full backs a breather. Bartra is an up and coming center back who will obviously take a back seat to Puyol, Pique and Mascherano in his respective position. However, the minutes have been hard to come by for him when the club's league position allows for it. Yesterday was the perfect example where Bartra could have started against a Granada side that had only scored 22 goals in 23 matches. Instead, Bartra found himself sitting in the stands.
These two defenders should be playing more often to gain experience so they can be ready to leap into action in case a player suffers an emergency. Instead, they are being left out of the lineup and are collecting rust. These were players who were promoted and cannot find minutes. The big cause for concern is that the club will be repeating the same mistake next season if the stories are true that Sergi Roberto and Thiago's brother, Rafinha, will be promoted next season.
Barça needs to stop putting in the players' contracts these conditions that promise B players to be promoted to the first team. Their promotion is met with plenty of sitting around and lack of playing time. This also affects Barça B when they keep losing their best players to the first team and suffer without those players who would be gaining plenty of minutes over sitting in the stands.
If Barça is that concerned about losing their young players, then they need to re-examine their policy. Promotion without gaining experience is not a step forward. Perhaps the club has to accept that the only way to keep players happy and gain experience through minutes is by loaning them out.  If staying with Barça B is not an option, then loaning them out to other clubs should be looked into. I don't want to see Bartra, Montoya, Tello, Sergi Roberto and Rafinha sitting on the bench or in the stands next season. Experience is the best form of education and these players will never excel if they continue to be given few minutes here and there.