Messi wins FIFA Ballon d'Or for the Fourth Consecutive Year.
Details

Category: FC Barcelona News
Published: Wednesday, January 09 2013 02:20
Written by Administrator
Hits: 2781
Lionel Messi received yesterday his fourth consecutive FIFA Ballon d'Or at yesterday's FIFA Ballon d'Or Gala held at the Zurich Kongresshaus.  He was chosen by the coaches and captains of the national teams of the 209 FIFA Member Associations along with a selected group of media.  Barça teammate, Andres Iniesta finished third behind Cristiano Ronaldo. Former FC Barcelona coach Pep Guardiola came in third for FIFA World Coach of the Year which was won by Vicente del Bosque. Barça players Dani Alves, Gerard Piqué, Andrés Iniesta, Xavi Hernández and Lionel Messi were part of the FIFA FIFPro World XI team.
Per FIFA's website, these awards were decided after a poll in which the captains and head coaches of both men's and women's national teams, along with international media representatives selected by French football magazine France Football. Each group's votes represented one third of the final result. Lionel Messi won the FIFA Ballon d'Or after receiving 41.60% of the votes, ahead of Cristiano Ronaldo who received 23.68% and Iniesta who received 10.91% of the total votes.

Messi's achievement was historical after he became the first player to even win this award four times. No other Barça player had ever won this award more than once. Those players consist of Luis Suarez, Johan Cruyff, Hristo Stoichkhov, Romario, Rivaldo, Figo and Ronaldinho. Messi's record breaking achievement also means that FC Barcelona have had this award won by its players ten times.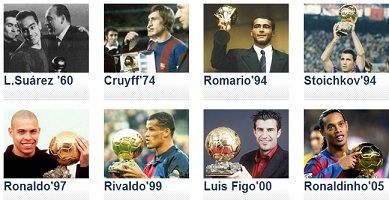 Messi wasn't the only one to walk away with an award.  Four other Barça players were also recognized as part of the World's best team for the FIFA FIFPro World XI. FIFPro invited 50,000 professional players from all over the world to select their best team of 2012. Dani Alves, Gerard Piqué, Andrés Iniesta, Xavi Hernández and Lionel Messi were part of a team dominated entirely by players from the Spanish league. The final team is as follows: Iker Casillas (Spain) in goal; Dani Alves (Brazil), Marcelo (Brazil), Gerard Piqué (Spain) and Sergio Ramos (Spain) in defense; Xabi Alonso (Spain), Andrés Iniesta (Spain) and Xavi Hernández (Spain) in midfield; and Cristiano Ronaldo (Portugal), Radamel Falcao (Colombia) and Lionel Messi (Argentina) up front.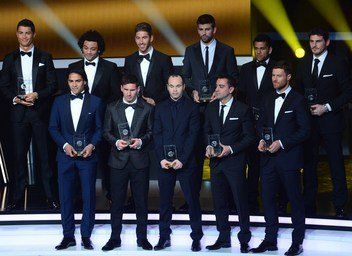 Meanwhile, the FIFA World Coach of the Year for Men's Football award went to Spain's National Team manager Vicente del Bosque with 34.51% of the votes, ahead of Real Madrid's manager José Mourinho, with 20.49%, and former FC Barcelona coach Pep Guardiola, who received 12.91% of the total votes.
It was also a great night for USA Football when US international Abby Wambach won her first FIFA Women's World Player of the Year award. Wambach, lead the USA team to the Gold Medal  at the London 2012 Olympics, where she also won the Adidas Golden Ball as the best player of the competition along with the Adidas Golden Boot for scoring five goals. She received 20.67% of the votes, which placed her ahead of Brazil's Marta and Alex Morgan from the USA, who both received 13.50% and 10.87% respectively.